As many of you know, I plan to do a review once a month for a special soap company that was hand-picked by yours truly. I wanted to create a spotlight for others and their work and will thus be featuring 12 different bath and beauty companies from around the world. So, without further ado, welcome January's review.
Lathered Pony Soap Company
I first saw Patricia's soaps on Facebook as I cruised through my feed. Bramble Berry picked "Moon Rising" as their Photo of the Week and I was positively gobsmacked. I knew at once I had to review her.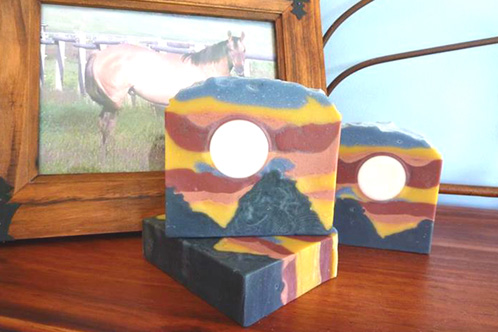 Moon Rising
Patricia has been making soaps for one year. One. Year. People, that's incredible. I have never seen anyone make soaps this beautiful, this ornate after only one year of practice. It's beyond impressive.
I was sent 3 different bars, one of which, to my utter delight, was Moon Rising. Also included in the adorable package was Red Velvet, a cupcake soap, and Berrylicious, another lovely Artisan Bar.
Red Velvet Cupcake
Berrylicious
Packaging
The packaging for Patrica's products is top notch. The cupcake came in a treat bag, complete with 2 cleverly concealed holes for sniffing the chocolatey fragrance inside. The bars were covered in what appears to be saran-wrap, a perfectly tied ribbon holding a handmade label in place. The label is lovely and the white dots on the pony's tale and mane are textured. Inside, ingredients are listed and on the back is Patricia's email and phone number so you can contact this soapy creator if you need more!
beautiful, perfect packaging
"scent hole"
adorable labels
Fragrance
All of the soaps sent to me were SUPER fragrant. I could smell the goodness through the packaging of all three products. Moon rising was like nothing I've ever smelled before and it's no wonder! Patricia made a fabulous concoction of 3 different fragrance oils to get the scent it it's just straight up awesome! Very clean and lovely! Red Velvet...smells
exactly
like red velvet cake. I really can't get over it. Berrylicious is fruity and yummy. Again, this one was custom blended so I can't nail it specifically. To me, it smells of cherries, blackberries, raspberries, and strawberries. It's utter divinity!
Weight and Specifics
Ingredients in the Red Velvet Cupcake -
Olive Oil, Coconut Oil, Palm and Palm Kernal Oil, Castor Oil, Water, Sodium Hydroxide, Cocoa Butter, Fragrance, Color, Tussah Silk
Ingredients in Moon Rising -
Olive Oil, Coconut Oil, Palm Oil, Castor Oil, Water, Sodium Hydroxide, Fragrance, Color, Tussah Silk
Ingredients in Berrylicious -
Olive Oil, Coconut Oil, Palm Oil, Shea Butter, Castor Oil, Water, Sodium Hydroxide, Fragrance, Color, Tussah Silk
Soap bars weigh around 5 ounces and soap cupcakes weigh around 6. Nothing was damaged in shipping and everything arrived within 2 days of the shipping notification.
Quality and Performance
Red Velvet Soap Cupcake - WOW! The scent actually stuck to my skin a little! Everyone in my fam thought this soap had an unusually moisturizing property too it, rare in a soap bar. The lather was creamy, bubbly, and smooth all at the same time and the texture was like slippery and silky! Top notch!
Moon Rising - Now, I loved this one even though I thought the lather was less moisturizing. I used it for shaving and loved the results. You can't get over the scent, it's just awesome, even though I couldn't smell it on me much afterwards. Hey, that's what lotion is for, right? ;)


Berrylicious - This one is beyond amazing! The fragrance stuck to my skin even after i got out of the shower! I love the little poppy seeds! Couldn't ask for a better bar, you really couldn't!
Conclusion
If I could say one thing about the Lathered Pony Soap Company, it would be that the impeccable details make these products absolute must haves. Seriously, everything comes together so neatly that it makes the entire experience the closest to perfection you're going to get. The owner and master-crafter is sweet and friendly, the soaps are fragrant and feel beautiful on your skin, they are masterpieces to look at. You can't go wrong.
Here's a great thing. Lathered Pony Soap Company is offering Royalty Soaps readers and subscribers a percentage discount at their store! Woopee! Just type in "PONY"
for 20% off your entire order! WOW!
E m a i l - heartlazyh60@gmail.com
P h o n e - 406-763-4800
So, what do you think? Will you try Lathered Pony Soap? You should!