Regular price
Sale price
$7.00 USD
Unit price
per
Sale
Sold out
This variety was formerly known as Riversong!
Fragrance :  This soap contains a beautiful fragrance combination of rain-soaked petals, wild ivy, meadow grass, fresh rain, and rushing river water.
About : By popular request, Royalty Soaps is happy to present to you the Diamond Collection! These soaps are slightly smaller than our cold process Artisan bars, easier to hold in the shower, highly scented with exceptional fragrances, and most have a slightly translucent and shimmery appearance! 
Weight : Approx 6 oz (170g) Please note that our Diamond Soaps are hand poured so actual weight may vary slightly.
To Use : Keep your soaps in a dry, ventilated area when not in use. By creating an ideal environment, your soaps will last far longer. If you think the actual soap is to big to palm, just cut it in half and use it for two bathrooms!
Ingredients : Coconut Oil, Palm Oil, Safflower Oil, Glycerine (kosher, of vegetable origin), Purified Water, Sodium Hydroxide (saponifying agent), Sorbitol (moisturizer), Propylene Glycol (made with Vegetable Glycerine), Sorbitan oleate (emulsifier), Oat protein (conditioner), Fragrance, Skin-Safe Colorants
Share
View full details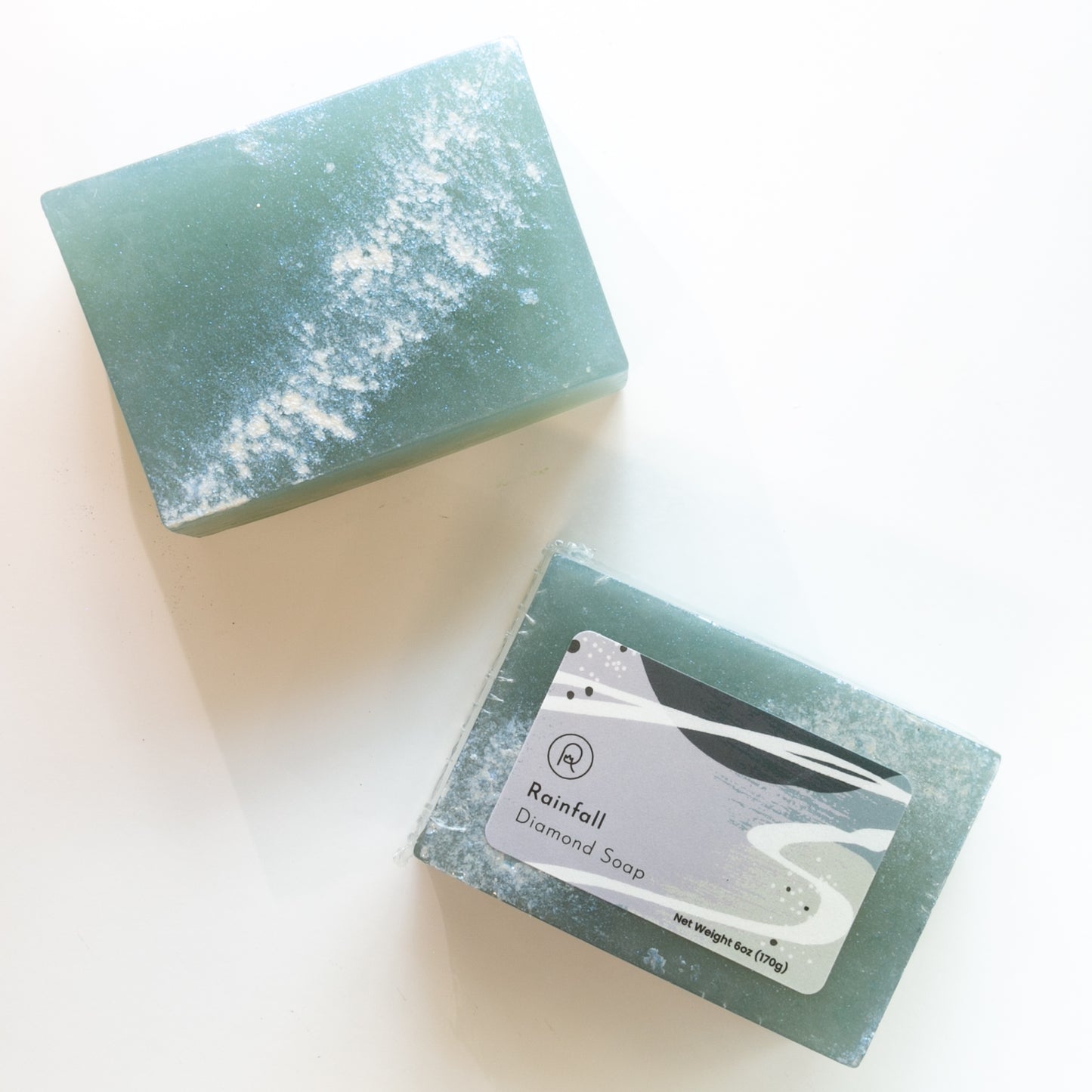 In love with the scent!
The soap is beautiful and I am obsessed with the scent! It lathers very well, feels smooth, and the scent lingers very lightly on your skin after use. Makes me feel fresh all day.
Great clean sent
My SO loves this soap. It's very nourishing and has a nice clean sent.
Surprisingly happy
I'm gonna come out right. I don't normally like the feel of glycerin soap. It never feels or smells right. BUT I absolutely love this smell, I've enjoyed it in your lotion form soooooo much so I thought why not. I'm pleasantly surprised that I love it as much as your other soaps. It smells amazing and feels miles better than store bought. It is definitely a whim well bought
My whole family loves these
I bought one of these a few months ago and I had to immediately buy more because absolutely everyone in my family who was visiting at the time loved the scent including my husband who now buys these regularly.
Awesome soap
The diamond soaps are great entry gifts. Light on the micas/colorants so they don't bleed in your sink (always removable and doesn't stain!, and easier to hold than the frosted or artisan soaps. Great gift, great value. Lasts a long time