Regular price
Sale price
$8.00 USD
Unit price
per
Sale
Sold out
Fragrance : Rose, lavender, and ylang-ylang. 
About : This soap bar is created with rose clay and pink sea salt to gently exfoliate your skin. 
Weight : Approx. 5oz (141g). Please note that our Artisan Soaps are hand cut so actual weight may vary slightly.
To Use : Keep your soaps in a dry, ventilated area when not in use. By creating an ideal environment, your soaps will last far longer. 
Ingredients : Olive Oil, Coconut Oil, Sodium Hydroxide, Cocoa Butter, Castor Oil, Coconut Milk, Lavender 40/42 Essential Oil, Rosemary Essential Oil, Ylang-ylang Essential Oil, Sodium Lactate, Kaolin Clay, Rose Clay, Pink Sea Salt, and Citric Acid.
---------------------
VEGAN 
PALM FREE 
ALMOND OIL FREE
NO SYNTHETIC FRAGRANCES 
NOT TESTED ON ANIMALS
PLASTIC-FREE PACKAGING
Share
View full details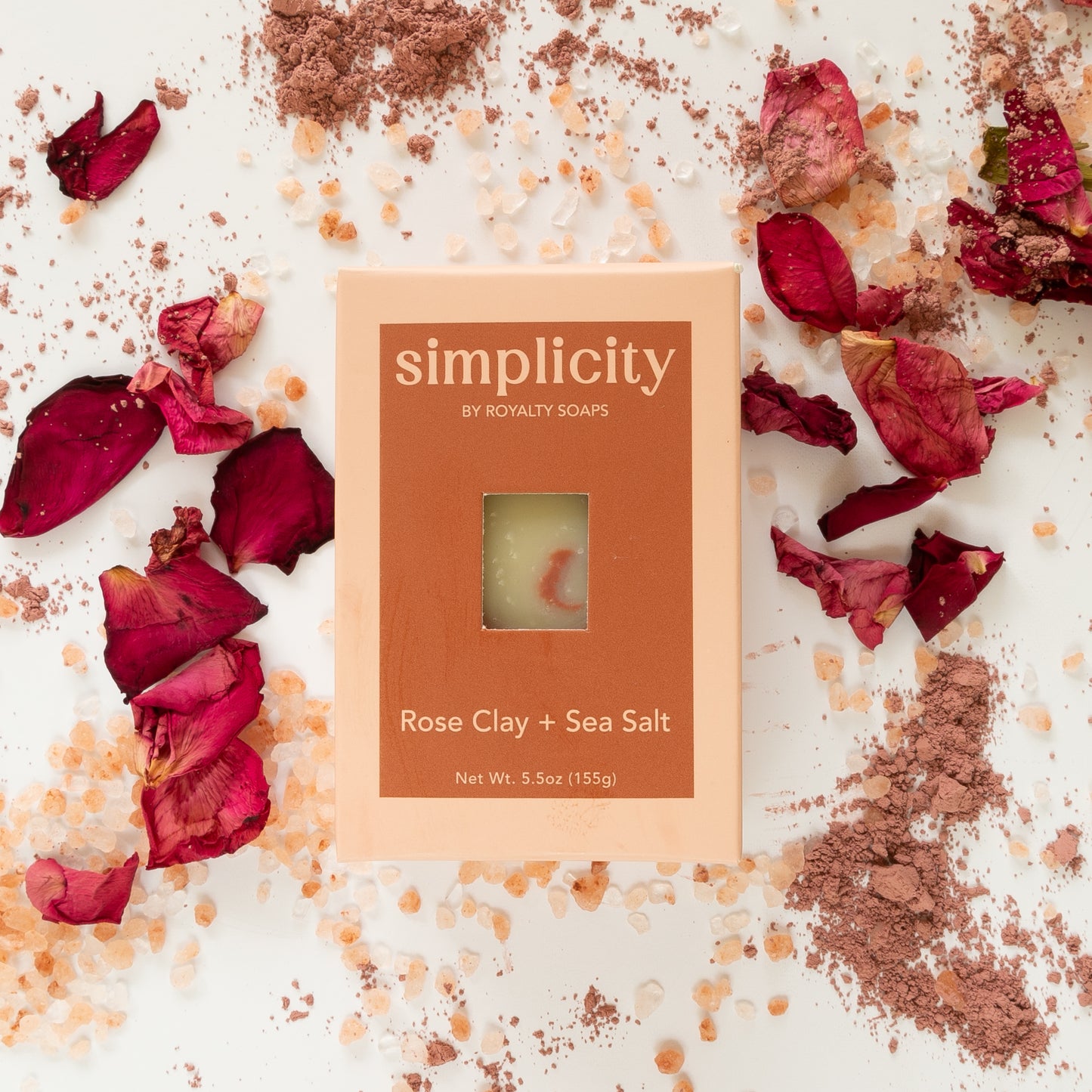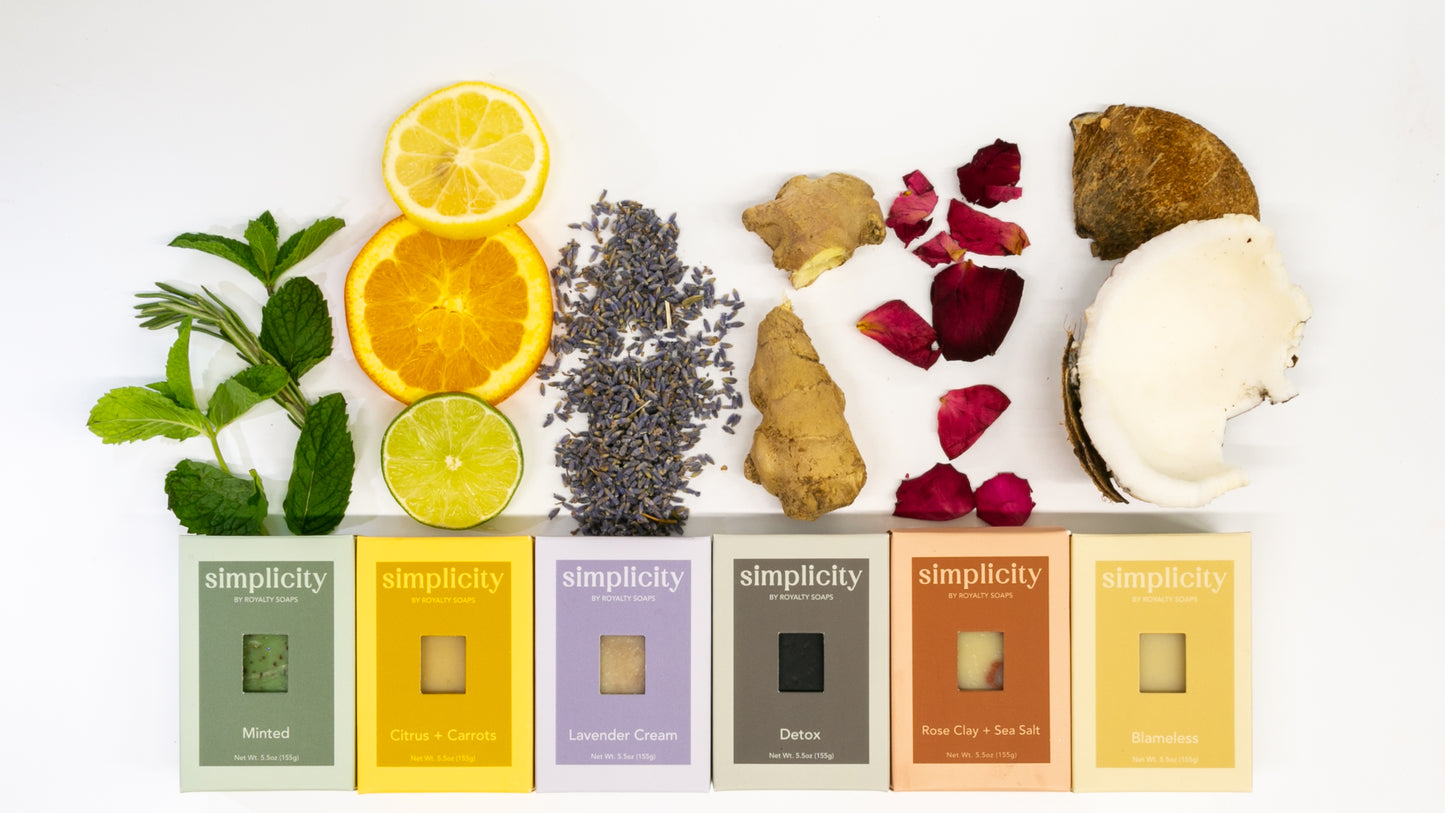 Super clean feeling
This is my first time using one of the simplicity bars. And I really dig this particular bar, perhaps even more than the fancier bars of soap. This bar just feels so fresh when you use it and it feels really good. Makes you feel really clean, and the sea salt I feel helps cleanse areas that may be hurt, like small wounds or pimples. It feels really good on those areas. (I REALLY like the sea salt, the bar has a lot on top, but it does rinse away pretty quickly too, so I've been tempted to dip the bar in more sea salt 😅) And the scent is really nice, fresh and smells nice and clean. And I feel like there's a hint of eucalyptus in it as well, which is also nice. Though I'm not sure, it smells a lot like it though, rose and eucalyptus. Also a very pretty bar of soap, it does make shower time feel just a little more special.
Absolutely love this fragrance and the bar is so beautiful it makes shower time feel like a spa time. Love all of Royalty soaps soap I get from you!
Simply beautiful
The delicate floral scent meshes perfectly with the soft rose-pink streaks and silky texture. A 'basic' soap bar that feels seriously upscale, right down to the packaging. Highly recommended.
Beautiful and so
The soap itself is beautiful (and smells glorious too!) and well made. I always thought I couldn't use "real soap" due to skin sensitivity and my only experience with it being mass market products in the 1980s/90s, but wanted to try again after finding Katie's YouTube channel and hearing how this type of handmade soap is different from what I knew before. And she was right! I've never had actual soap like this before - I tend to have quite sensitive skin and allergies to many fragrances/colorants but had no problems with either the Rose Clay + Sea Salt bar or the Flora diamond bar. Both have beautiful scents that fill my bathrooms after a shower and my skin is so soft and happy with both! I've been using the tissue paper from the shipping box in my "intimates" drawer as well because I'm so in love with the Flora scent. Would absolutely recommend!